ABOUT ABFF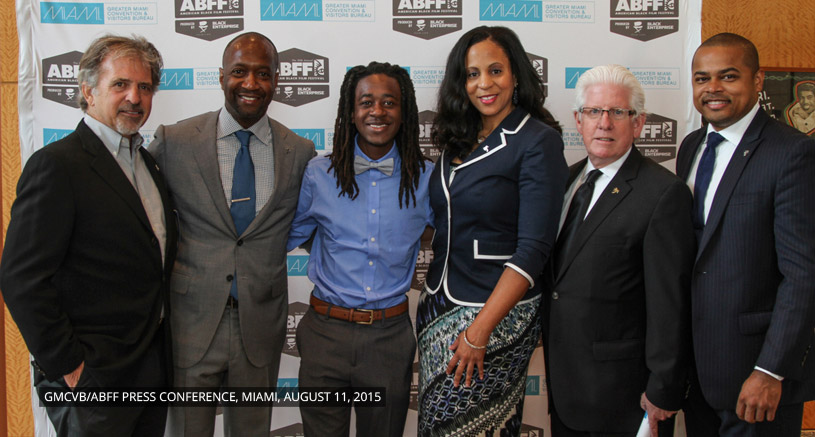 The American Black Film Festival (ABFF), founded in 1997, is an annual event dedicated to showcasing entertainment content made by and about people of African descent to a worldwide audience. Today it is recognized as the premier pipeline for Black talent in front of and behind the camera. The festival is comprised of five action-packed days of films, panels, parties and more…from the star-studded opening night screening to the closing "Best of Festival" Awards Ceremony.
This year ABFF celebrated it's 20th anniversary in Miami June 15-19, and Common served as the 2016 festival ambassador.
Overview
The American Black Film Festival (ABFF) is a five-day event dedicated to bringing awareness of entertainment content made by and about people of African descent to a worldwide audience. Annually held during the month of June, the ABFF is committed to the belief that Black artists deserve the same opportunities as their mainstream counterparts.
The ABFF was originally conceived as a destination event. Since its inception in 1997, the festival has been held in Acapulco, Miami, Los Angeles and New York City. Founder Jeff Friday envisioned the ABFF as a vehicle to promote diversity in the film and television industry. Today it is widely recognized as a major conduit for bringing new Black talent to the forefront, both in front of and behind the camera. The festival is considered the nation's largest gathering of Black film and TV enthusiasts, this year drawing an attendance of approximately 10,000. Founding and presenting sponsor HBO®.
A Platform for Excellence
From its beginning, over the years the ABFF has provided a platform for more than 900 narrative feature films, documentaries, shorts and Web originals, offering a consistent means to reward and encourage artistic excellence. Alumni success stories range from veteran producer Will Packer (Ride Along) to young auteur Ryan Coogler (Fruitvale Station)–testimony to the festival's mission to introduce and connect talented newcomers to the industry at large.
In addition to film screenings, each year the ABFF presents over 30 exciting events and networking activities designed to educate, nurture career development and inspire festival attendees. The festival traditionally opens with a Hollywood movie premiere, followed by independent film screenings, master classes, panels, celebrity conversations, entertainment and talent discovery programs co-programmed with leading media companies (HBO, Comcast/NBCUniversal, and BET). In 2015, the ABFF expanded its program to showcase more television-related content. 2016 brought a new focus on entertainment technology and initiatives to grow the number of women filmmakers.
An Audience of Creative Minds, Tastemakers & Gamechangers
The festival annually attracts a core audience of artists, entertainment executives and upscale film enthusiasts from around the world. The ABFF supports artists in unprecedented ways, and has fostered a tremendous amount of goodwill in the Hollywood community. Artists such as Denzel Washington, Spike Lee, Halle Berry, Morgan Freeman, Robert Townsend, Keenen Ivory Wayans, John Singleton, Anthony Anderson, Idris Elba, Morris Chestnut, Kevin Hart, Nia Long, Tracee Ellis Ross, and Regina King have all come out in support of the event.
Extremely newsworthy, the festival generates more than a billion media impressions each year. The ABFF has been featured in mainstream as well as African American, entertainment and trade outlets including The New York Times, People, Ebony, Essence, Black Enterprise, Variety, The Hollywood Reporter and AOL HuffPost to name a few.
Top-tier corporations engage in partnerships with the ABFF to promote their brands, services and multicultural initiatives to the festival's highly desirable audience. The ABFF also receives support from television broadcasters, film studios and the Motion Picture Association of America (MPAA), all working to identify and cultivate relationships with multicultural talent. The ABFF partners are essential to its long-term success, which in turn contributes to the growth of a more diverse America.
Film Life, Inc., a multifaceted entertainment company, and Black Enterprise, the leading media company providing business information and services to African Americans, both headquartered in New York, produce the American Black Film Festival. ABFF and Black Enterprise have teamed up to jointly launch ABFF Ventures to stimulate mutual business growth and advancement in the event and entertainment industries.