TALENT SHOWCASES
---
21ST ANNUAL HBO SHORT FILM COMPETITION
|
THU 6/14 | 6:00 PM – 8:00 PM | NEW WORLD CENTER, PERFORMANCE HALL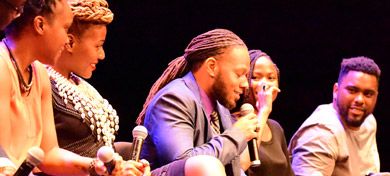 An exciting night, where five short films screen in competition for the HBO Short Film Award and a $10,000 cash prize
Hosted by Bevy Smith
CELEBRITY SCENE STEALERS
Presented by TV One
FRI 6/15 | 11:00 AM – 1:00 PM | LOEWS HOTEL, AMERICANA 3
Join TV One and host Dondré Whitfield for this dynamic event featuring popular actors and actresses performing scenes from the finalists of the annual screenplay competition. One of these talented screenwriters will win $5,000 and the opportunity to have their screenplay produced for TV One. With LeToya Luckett, Hosea Chanchez, Bre-Z, Imani Hakim, Tristan "MACK" Wilds, Chaley Rose, Angelo Diaz and Chris Diaz.
---
ABFF "COMEDY WINGS" COMPETITION
Sponsored by HBO
FRI 6/15 | 9:45 PM – 11:30 PM | NEW WORLD CENTER, PERFORMANCE HALL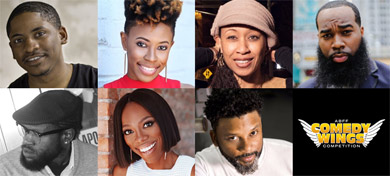 A hilarious night of comedy. Five of the funniest new comics battle it out to take home the 2018 Comedy Wings "Winner" title.
Finalists: Kris Atkins (Houston, TX), Rita Brent (Jackson, MS), Leigh Ann Lord (New York), T Murph (Chicago, IL), Blaq Ron (Dallas, TX)
Hosted by Yvonne Orji
Special Appearance by Carl Payne
"BEST OF THE ABFF" AWARDS PRESENTATION
Sponsored by DIRECTV NOW
SAT 6/16 | 8:30 PM – 10:00 PM | NEW WORLD CENTER, PERFORMANCE HALL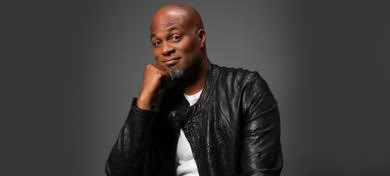 Celebrate the 2018 American Black Film Festival Official Selections as the film and talent competition winners are awarded.
Hosted by Chris Spencer