2015 Spotlight Screenings
---
Opening Night Film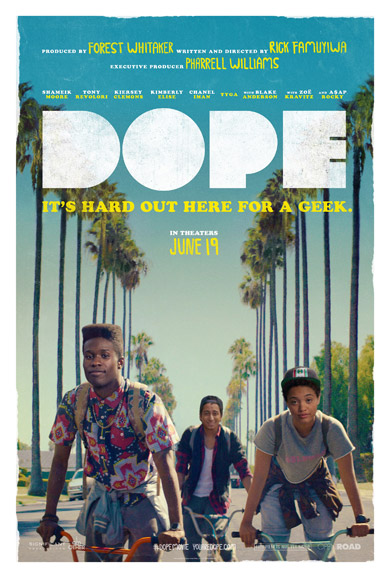 DOPE
2014 USA 115 MIN HD
NY Premiere
Hosted by the Motion Picture Association of America | Courtesy of Open Road Films | Presented by Where to Watch
6/11 | 7:30 pm | SVA Theatre | SOLD OUT
6/14 | 5:35 pm | AMC EMPIRE 25
Dope is a coming-of-age comedy/drama for the post hip-hop generation; its main characters are obsessed with '90s hip-hop. Malcolm (Shameik Moore) is warily surviving life in "The Bottoms" in Los Angeles, while juggling college applications, academic interviews and SATs. His dream is to attend Harvard. A chance invitation to an underground party leads him into a gritty adventure filled with offbeat characters and bad choices that could allow him to go from being a geek to being dope to ultimately being himself. Open Road Films will release the film nationwide on June 19, 2015.
Directed by: Rick Famuyiwa | Written by: Rick Famuyiwa | Produced by: Forest Whitaker, Nina Yang Bongiovi | Executive Producers: Pharrell Williams, Michael Y. Chow, Rick Famuyiwa, David Lonner | Co-Exec. Producers: Sean "P. Diddy" Combs. Co-Prods: Mimi Valdes, Caron Veazys | Cast: Shameik Moore, Tony Revolori, Kiersey Clemons, Blake Anderson, Zoë Kravitz, A$AP Rocky, Chanel Iman, Quincy Brown
---
ABFF INDEPENDENT – Season 4 Premiere
2015 USA 35 MIN
World Premiere
Courtesy of ASPIRE
SAT 6/13 | 2:15 PM | AMC EMPIRE 25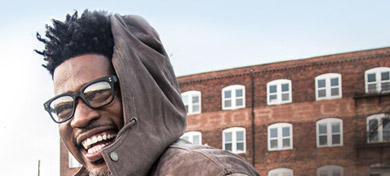 ABFF Independent is a showcase of popular and award-winning films from the American Black Film Festival (ABFF) hosted by hip-hop artist, record producer and actor David Banner.
AN UNEXPECTED HISTORY: THE STORY OF HENNESSY AND AFRICAN AMERICANS
2015 USA 49 MIN HD
World Premiere
Courtesy of Hennessy
FRI 6/12 | 6:15 PM | AMC EMPIRE 25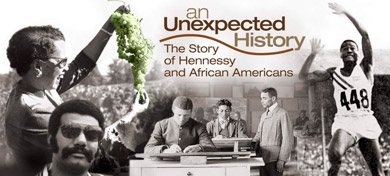 An Unexpected History celebrates Moët Hennessy's hundred-year relationship with African American culture, as well as the role of African Americans in shaping the brand's identity and success. The film recounts Hennessy's historic role in bringing respect and opportunities to Black professionals and consumers, by focusing on the remarkable achievements of two of the brand's most influential Black executives.
Directed by: Llewellyn Smith | Produced by: Llewellyn Smith, Annie Stopford | Featuring: Jason P. Chambers, PhD, Herbert P. Douglas Jr., Noel Hankin, Rhonda McDonald, Rodney Williams
---
BOYZ N THE HOOD
1991 USA 108 MIN 35 mm
Courtesy of Turner Classic Movies
SUN 6/14 | 2:00 PM | AMC EMPIRE 25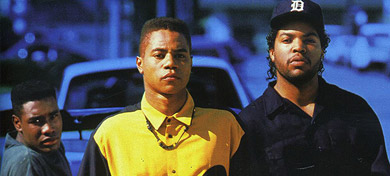 Q&A with director John Singleton to follow
ABFF remembers John Singleton's classic saga of a group of childhood friends growing up in a Los Angeles ghetto.
Directed by: John Singleton | Written by: John Singleton | Produced by: Steve Nicolaides | Cast: Ice Cube, Cuba Gooding Jr., Laurence Fishburne, Morris Chestnut, Nia Long, Angela Bassett, Regina King
BOXED IN
2014 USA 30 MIN HD
World Premiere
SAT 6/13 | 6:30 PM | AMC EMPIRE 25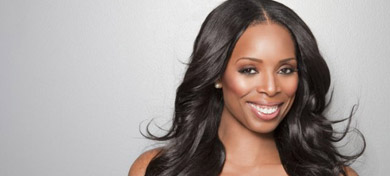 Q&A with actress and now director Tasha Smith to follow
A Black man in NYC struggles with bipolar disorder, while his girlfriend and mother learn to deal with the pain of his manic episodes and struggle for mental survival.
Directed by: Tasha Smith | Written by: Tasha Smith | Produced by: Tasha Smith, Kim Ogletree | Cast: Walter Fauntleroy, Antonique Smith, Tyra Ferrell
---
RUNAWAY ISLAND
2015 USA 85 MIN Estimated HD
World Premiere
Courtesy of TV One
FRI 6/12 | 3:20 PM | AMC EMPIRE 25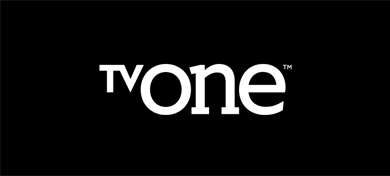 Q&A with the director and cast to follow
A pastor, an aging widow, and a socialite with cold feet visit a luxurious Gullah Sea Island resort to be rejuvenated by its holistic setting.
Directed by: Dianne Houston | Written by: Christopher Brandt | Produced by: Gingi Rochelle & Allison Wilmarth | Cast: Lorraine Toussaint (Orange Is the New Black), Thomas Q. Jones (Being Mary Jane), Aisha Hinds (Star Trek Into Darkness), Leon Thomas (Victorious), A. Russell Andrews (Grey's Anatomy, House of Payne), Erica Tazel (Justified), Melanie Liburd (CSI, Stalker).
IN MY FATHER'S HOUSE
2015 USA 93 min
Courtesy of Walmart
FRI 6/12 | 4:10 PM | AMC EMPIRE 25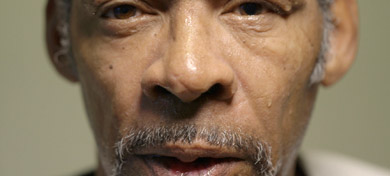 Inspired by nostalgia and a romantic idea of family legacy, hip-hop artist and songwriter Che "Rhymefest" Smith decides to purchase his childhood home on Chicago's South Side and raise his new family in the same house where he grew up. He quickly discovers that his estranged father is a homeless alcoholic living only blocks away, and hesitantly sets out to reconnect with the man who abandoned him over twenty years ago. Soon Che finds that fatherhood is more complicated than his idealized version allowed him to believe.
Directed by: Ricki Stern, Annie Sundberg | Cast: Che "Rhymefest" Smith, Brian Tillman, Donnie Smith